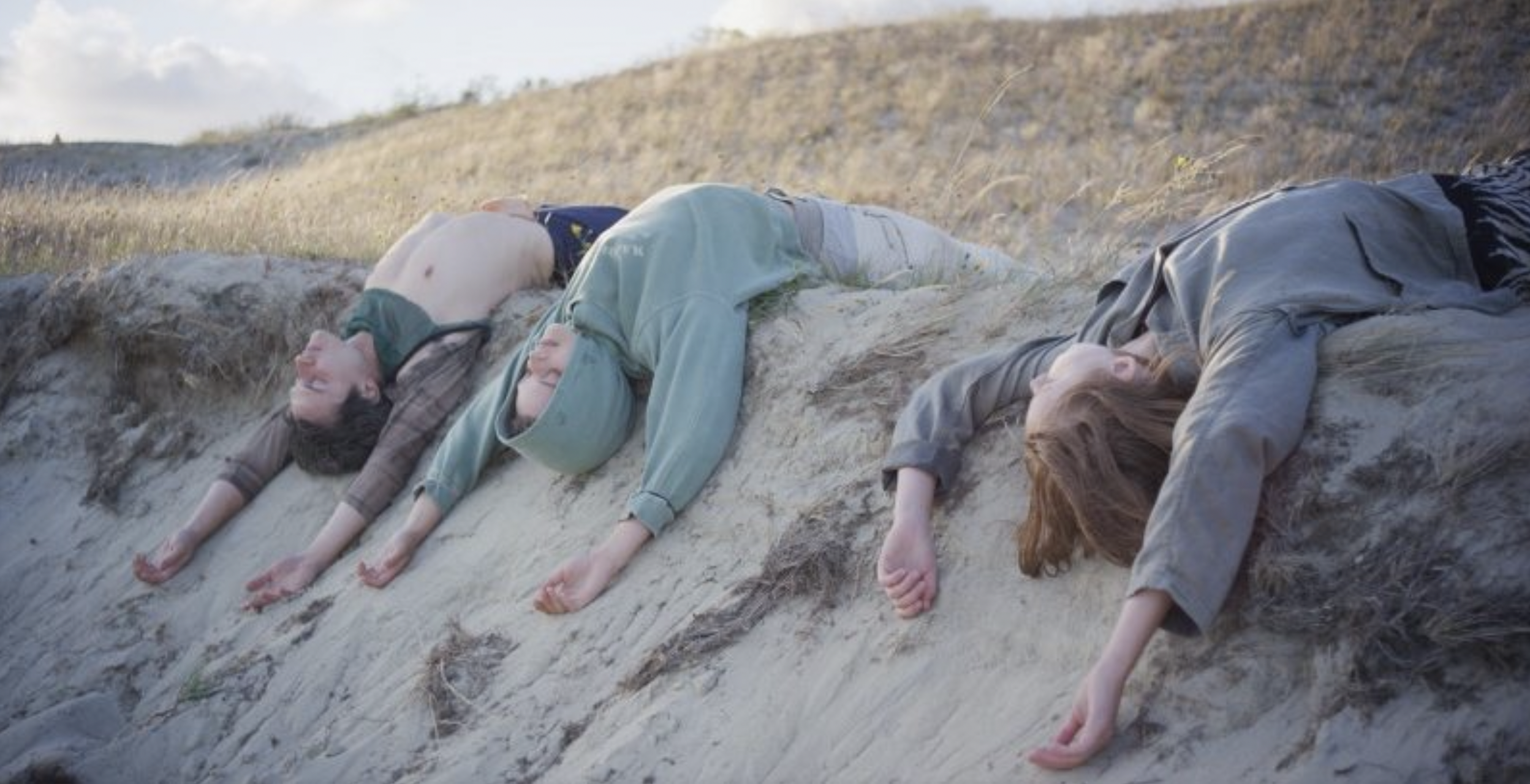 Eglė Budvytytė, in collaboration with Marija Olšauskaitė and Julija Steponaitytė, video, 2020, Lithuania, 30 min.
The film, shot in the pine forests and sand dunes of the Curonian Spit, is a hypnotic exploration of nonhuman forms of consciousness and different dimensions of symbiotic life: interdependence, surrender, death, and decay. The images gradually layer, alongside intimate lyrics of a song that channels the desires of an entity shapeshifting across different genders, voices, and beyond-human embodiments. Featuring a cast comprised of local youth, alongside performer and choreographer Mami Kang, the film unfolds through a specially conceived song, choreography and costumes.
Horizontality in the choreography undoes the usual verticality of human figure, unfurling her into the landscape.The performers' bodies are sites of activity, though they're often horizontal, pulled toward the earth and one another, moving through the forest, along the sand dunes and water.
The song lyrics draw on the work and words of biologist Lynn Margulis, celebrating the role of bacteria in making life and the collaboration between the single-cell organisms possible, as well as concepts by the science-fiction author Octavia Butler, who employed tropes of symbiosis, mutation, and hybridity to challenge hierarchies and categorisation.
Directing: Eglė Budvytytė
Song lyrics and voices: Eglė Budvytytė
Sound design: Steve Martin Snider
Art directing: Marija Olšauskaitė, Julija Steponaitytė
Solo dance performed and choreographed by Mami Kang
Camera: Vytautas Plukas
Camera assistant: Martynas Norvaišas
Editing: Bart Groenendaal and Eglė Budvytytė
Special effects: Elena Permogorskaya and Viktorija Obor
Performers:
Viktorija Zobielaitė
Evegeniy Kalachov
Goda Motiejaitytė
Silvija Lileikytė
Kipras Chlebinskas
Julija Steponaitytė
Special thanks to:
Coda dance school
Inga Briazkalovaitė
Egija Inzule
Maria Tsoy
Antanas Lučiūnas
Martynas Kazimierėnas
Kęstutis Minderis
Indrė Dikavičiūtė
Klaipėdos Lėlių teatras
Kuršių Nerijos Nacionalinio parko direkcija
Supported by:
Nida Art Colony
4Cs -From conflict to conviviality through culture
RIBOCA2
Mondriaan Funds
Lithuanian Culture Council